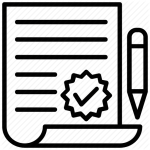 As per the rental act, Its mandatory to have a registered rental agreement. In past notarized agreement was prevalent. But it was not full proof having high chances of manipulation and fraudulent practices. Hence it is important to have a document properly registered with the government authorities to safeguard the interests of both the parties. 
We provide a complete rental agreement service and ensure you are compliant as per the law. Even if you are not in the current city, or located outside of India, we have provisions to help you complete the formalities
Connect on Whatsapp to initiate agreement process !